Mulled Wine Recipe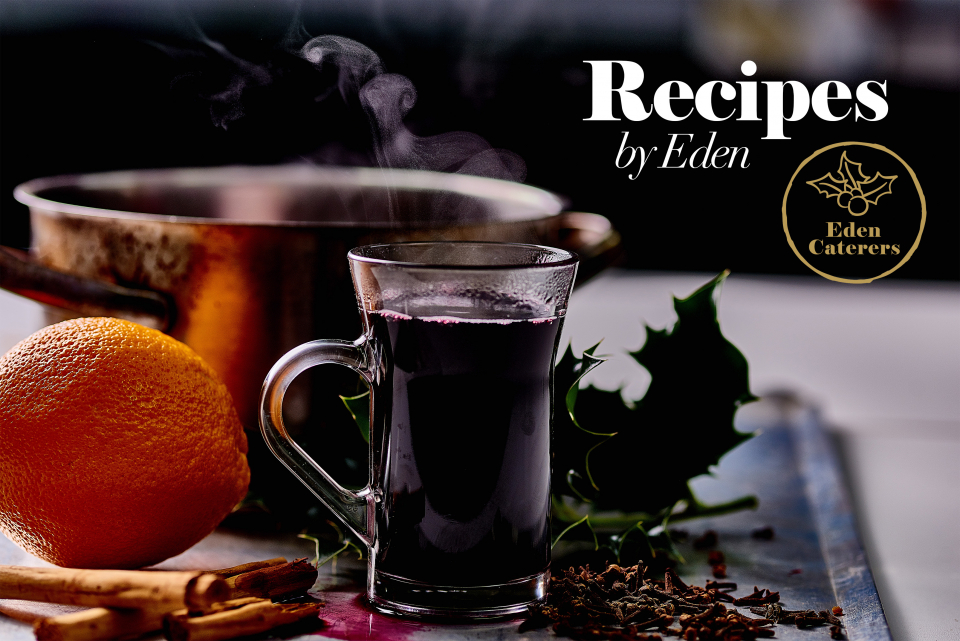 Mulled Wine is a traditional Christmas drink, usually made with a mixture of red wine and a blend of spices, typically served hot or warm. Mulled Wine was originally created by the Romans in the 2nd Century to defend themselves against the cold weather. Throughout the next century, the Romans conquered much of Europe, spreading their love of Mulled Wine throughout the regions they traded with. The Europeans would develop the recipe by adding spices to the heated wine, believing it would promote good health and fight off sickness. In contemporary culture, countries all over continue to create their own variations of the classic recipe to be enjoyed worldwide.
This season, wow your guests with your very own homemade Mulled Wine. Here's our Eden recipe:
INGREDIENTS
Serves 5
House Red Wine: Baron de Baussac Carignan 2009 – 1 bottle
Clove (whole)
Cinnamon Stick – 0.75 stick
Caster Sugar – 70g
Sherry – 15ml
Water – 70ml
Navel Orange – 0.5 each
METHOD
Start to warm wine in a large pan
Add cinnamon stick
Stick cloves into orange and add to pan
Cut other oranges in half & squeeze juice to pan
Add water, sherry and sugar and then stir
Bring temperature up but do not allow to boil (92c max.)
Keep below boiling for approx 30 minutes before serving or bottling
Taste & add more sugar if necessary
Enjoy!
Category: General News
Tags: , recipe, mulled wine, food and drink, events, christmas, xmas
0 Comments
Posted: 11/12/2019