From Plastic to Palm Leaf - our exciting new switch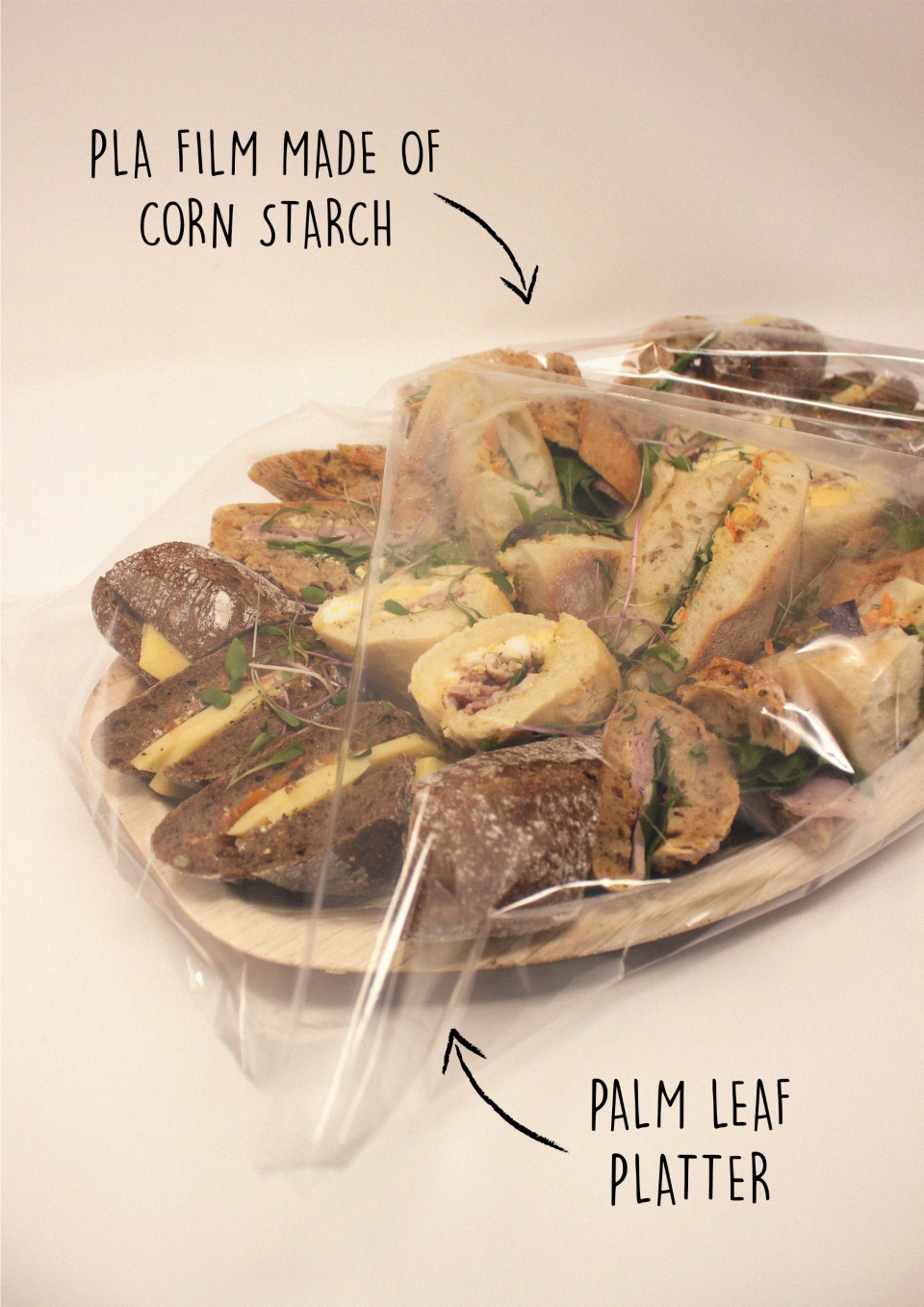 Our ultimate mission has been to eliminate the single-use plastic we use from the business entirely. As a catering company, the priority is to ensure that our food and drink always arrives fresh and suitable to serve and we have worked hard to source plastic-free products that deliver this promise.
WE ARE PLEASED TO ANNOUNCE THAT AS OF TODAY, OUR BLACK PLASTIC PLATTERS ARE NO MORE!
Instead, we have found an amazing platter made from naturally fallen palm leaves from the Adaka nut palm that we have trialled and tested - it works just as well, minus the harmful effects on the planet. The palm leaf platters are eco-friendly, stylish and best of all, not plastic.
What's the story?
The disposable black platters we have used up until now served their purpose but despite our customers' best efforts to recycle them, the single-use plastic was still ending up in landfill. As we all know by now, plastic can take up to 1000 years to decompose, often ending up in our oceans and harming our wildlife. THIS HAS TO STOP!
Our search for a sustainable alternative started around 8/9 years ago, first identifying that we still needed a product that would fit our food on while looking good and being unable to find anything that matched these standards... until now. Using naturally fallen leaves (no trees harmed in the making of our platters), they are then washed and mechanically pressed into a 120°C mould with no additional treatments required.
Yes, they are shipped over from India, but we have initially bought 40,000 platters in bulk in order to reduce delivery miles. No, they are not reusable, but they are compostable. In short, they are a great alternative to plastic.

We now have to pass the sustainability-baton to you. In order for this to be a truly effective change, we need to trust that they will be disposed of correctly. Being compostable means it can go in the food waste bin, so throw it in along with any leftovers you may have for it to naturally decompose.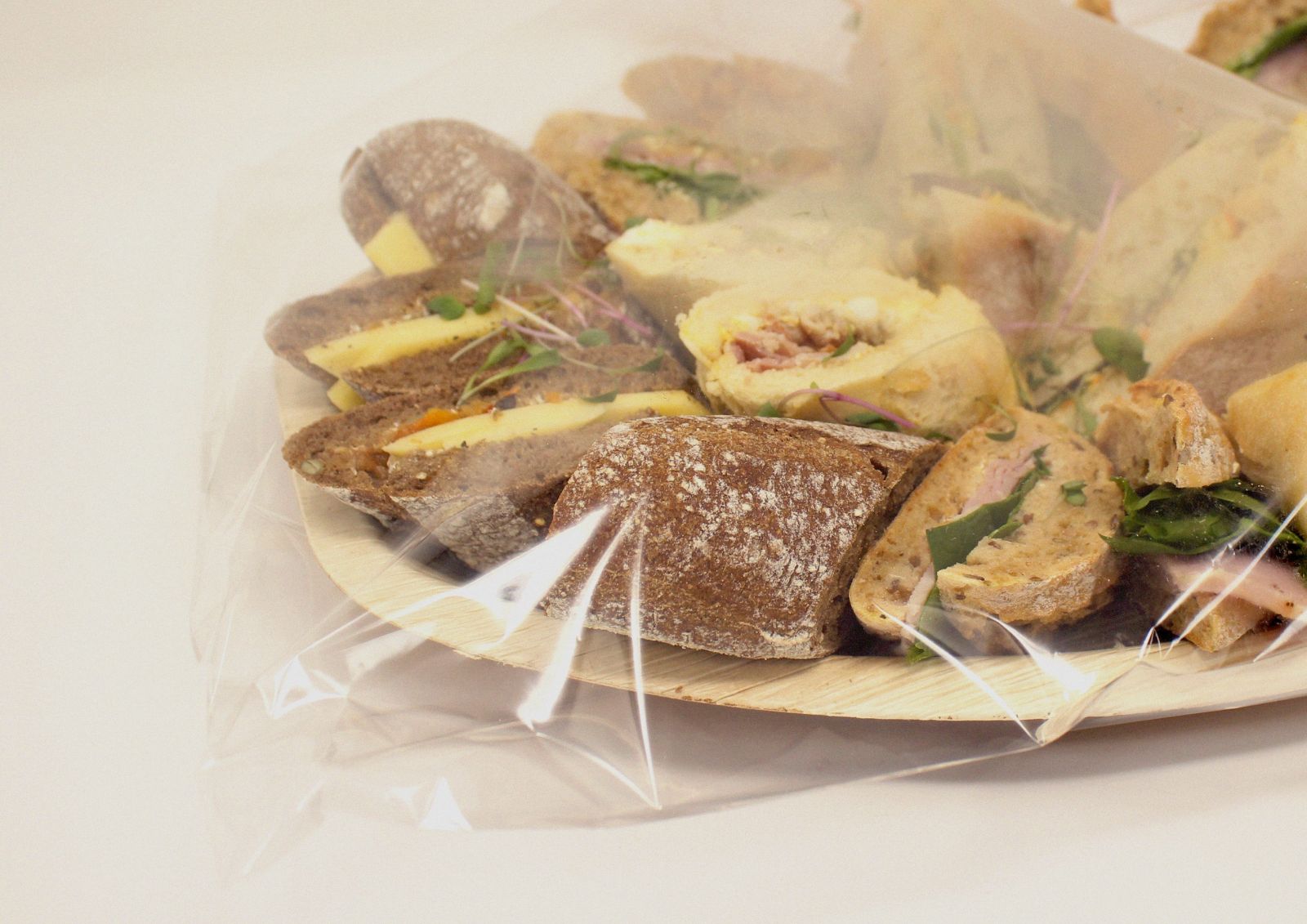 New Food Film Cover
We have made similar monumental movements where it comes to our food film. We wanted to find a more environmentally-friendly alternative to the plastic film we had been using but with a product that ultimately done the same job - covering our food to keep it fresh whilst being easy-to-use in our fast paced kitchens.
After more sourcing, trialling, meetings, designing and then more trialling, we have worked with a supplier to create a fantastic PLA film made of corn starch - the first of its kind. This product, unlike the previous plastic film, is compostable and kinder to the planet.
There is still an issue surrounding the composting of this material, as there are very limited plants in the UK that are even able to do this. However, something has to come first. The more understanding there is surrounding the sustainable movement and the more people who adopt the use of these products, the more demand there will be for a suitable recycling method.
As always, we will still be able to provide white melamine platters (pictured above) with any executive upgrades. These are collected after each event by our drivers and are completely reusable.
By making these switches, we are reducing the use of PET plastic by over 6 tonnes per annum and are one step closer to eventually becoming single-use plastic free. There is more to do and we will continue with our mission, being regarded as one of the UK's most sustainable caterers. We look forward to hearing your feedback!
The Eden Team
0 Comments
Posted: 13/05/2019