#SustainableXmas - Gifting Part 2: Edible Gifts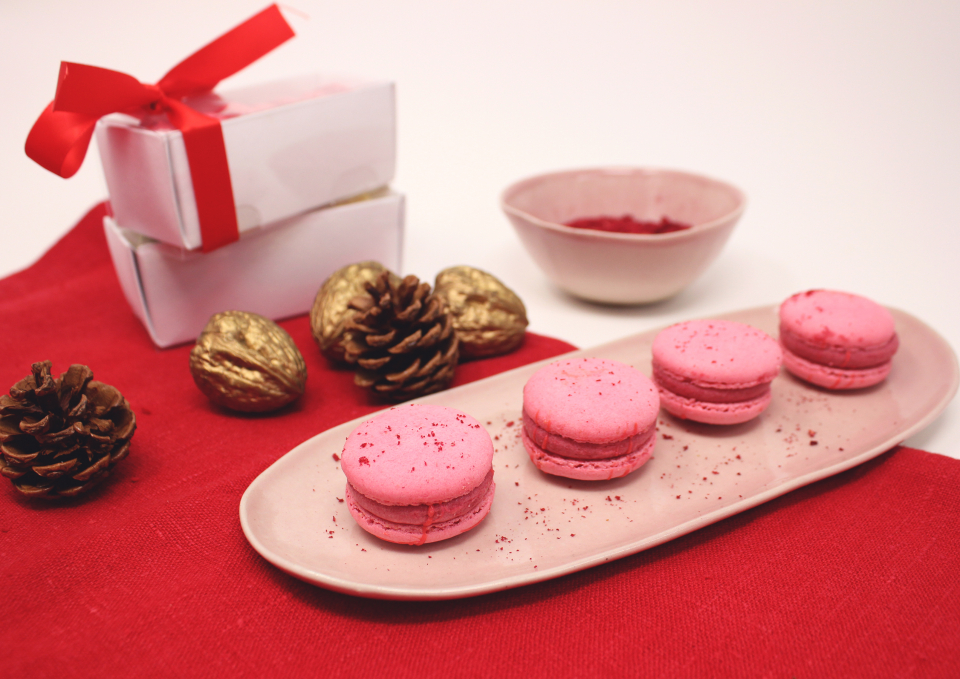 There's no denying it: food gifts are the best! Sticking to our 'homemade' mantra, get your baking gloves on and cook up something delicious for loved ones this year, like these gorgeous macaroons.

They're pretty, can be gift boxed and ultimately taste delightful. You can also personalise them if you know your recipient's favourite flavours. Follow our recipe below:

What you'll need to make 20 macaroon shells:
- 2 Egg Whites
- 75g Ground Almonds
- 90g Icing Sugar
- 100g Caster Sugar
- 0.5g Cream of Tartare
- 0.25g Food Colouring – Powder Red
Method:
1) Line a baking tray with a macaroon template silicone mat or good quality parchment paper & place the stencil underneath.
2) Fit a piping bag with a round piping tip, approx. 6mm.
3) Wipe down a large bowl so any grease residue is removed, then add the egg whites. In a separate bowl, sift together the ground almond and icing sugar.
4) Whip the egg whites until they start to form soft peaks (3-4 minutes). Add the cream of tartar and the sugar 1/3 at a time while continuing to whip the egg whites. Continue to whisk until stiff peaks are formed. Add your food colouring or flavour extracts (if using) within the last minute of whisking.
5) Gently fold the meringue mixture into the bowl of dry ingredients, only using a third at a time, until they are all combined. Turn the bowl each time you add more meringue until it's all incorporated.
6) When the mixture starts to look glossy, test the batter by lifting the spatula up over the bowl. The batter should come off the spatula in slow ribbons and incorporate back into the batter in about 20 seconds. If it comes off in clumps and doesn't incorporate back into the batter, you will need to keep mixing. You can evaluate the batter consistency one stroke at a time. Keep in mind that the batter will continue to thin as you pipe it.
7) Once the batter is at the right consistency, transfer it into the piping bag and pipe the batter onto silicone mats. When piping, hold the piping tip at a 90 degree angle about 1/4 of an inch above the mat and squeeze gently until the batter almost fills the circle (it will spread out a bit as it settles).
8) Bang the tray against the kitchen counter a couple of times to knock out any air bubbles. If you still have visible air bubbles, you can pop them with a toothpick.
9) Leave them to dry until they form a skin (around 20 minutes depending on humidity). You can test this by gently touching them with your finger – the batter should not come off.
10) While your macaroons are drying, preheat your oven to 150c.
11) Bake the macarons on the middle rack for 12-14 minutes. Wiggle the tray to see if the top of the shell moves – if it doesn't, they're done.
12) Remove your macaroon shells when done and let them cool at room temperature.
13) Pair macaroon shells of similar sizes and fill with your favourite buttercream, jam, or ganache – we recommend a raspberry and white chocolate pairing, or you could experiment with festive flavours like gingerbread or candy cane peppermint.
14) Enjoy!

0 Comments
Posted: 21/12/2018